"Delboizz Luvvly Jubbly Band: Purveyazz of amaizzing dazzling jazz and sizzling drizzling Bloozz", Jazz jamzz, hott schott, hott spottzz….
When it comes to Jazz at your next function, with the Delboizz Luvvly Jubbly Band, the answer is a definite "Yes". Now what's the question?
The Delboizz Luvvly Jubbly Band can offer amazing various line-ups and genres of jazz, including a jazz duo, 8/9-piece Dixieland band, cool jazz trio, vocals: even a DJ, an MC (Delboy is a qualified MC: Master of Ceremonies) and background music. In short, the Delboizz Luvvly Jubbly Band can offer a wide range of varying jazz styles and media for your event. Delboy is an accomplished after-dinner speaker, with lots of amusing anecdotes. He is highly experienced in public speaking, having spent most of his working life delivering and running a very successful Management Training business.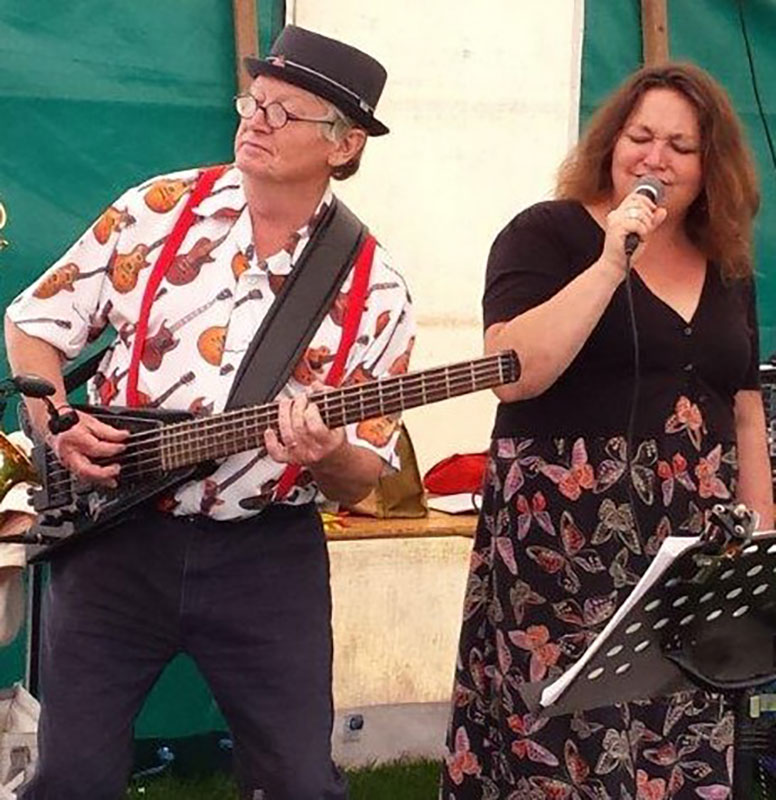 Typical scenarios can involve music beforehand (e.g. before wedding vows), drinks afterwards, and even during the lunch/dinner/breakfast. Everything can be adjusted to suit the requirements. Music for walking down the aisle can also be arranged.
Often people know that they want their event to be immersed in music, but don't know where to start. Delboizz Luvvly Jubbly Band will assist with weddings, civil ceremonies, village fetes, Rotary and Masonry dos, and the rest. Music can be supplied for the church service too. Music offered by the church doesn't have to be used. Additionally, over the years it has been estimated that we have raised over £20,000 for charities like Age UK, Tools for Self-Reliance, the British Heart Foundation and MenCap.
The Delboizz Luvvly Jubbly Band has played at many weddings, private parties, corporate events, village and charity events and concerts.
The wide range of options that the Delboizz Luvvly Jubbly Band can offer makes it an obvious choice for your next event. We tend to play at functions in the Hampshire, Wiltshire and Dorset areas, although we have been known to operate at events in London and even further afield.